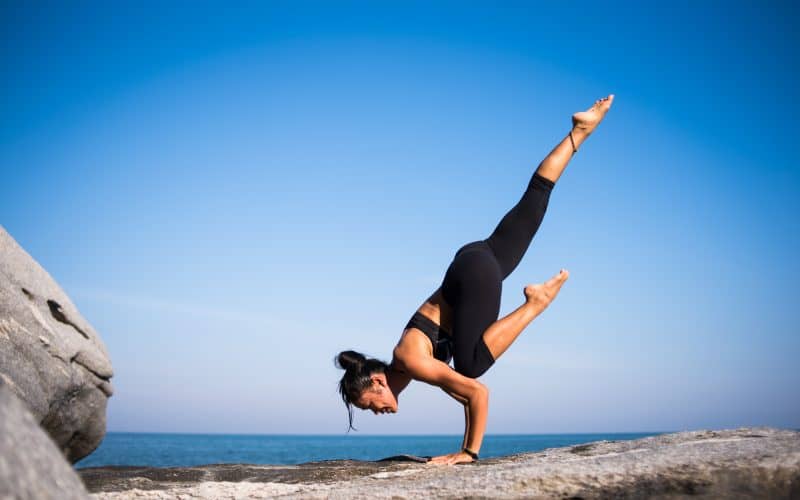 A sure-fire way to break through a strength plateau is to increase your range of motion. One of the most overlooked and underrated methods to do that is through isometric training. First discovered in the 1950s by researchers Hettinger and Muller, isometrics is where your joint angle and muscle length stay the same during muscle contraction. In essence, your muscles are working but you aren't actually moving. Although you're performing little to no movement, isometric training has been proven to increase muscular endurance, strength, and flexibility with surprising effectiveness. But one of the most interesting aspects of isometric exercise is its ability to increase range of motion. Why is this important, you ask? Let us count the ways:
By Increasing Flexibility
Regular isometric exercise significantly improves flexibility which, in turn, contributes to a better range of motion. In Barbosa et al., a resistance training program implemented for elderly women resulted in a significant increase in flexibility. In other words, resistance training without stretching itself increases flexibility all on its own. This result has massive implications for the rehabilitation and physical conditioning of our bodies as we approach the senior stages of life. A further study by Houssein Mohammadi Sanavi et al. found that hamstring muscles of the males in the test group were significantly improved after a six-week program combining isometric contraction with passive stretching. Yet, surprisingly, not only was flexibility increased but also the strength and endurance of the hamstring muscle. Which brings us to our next point…
By Improving Physical Performance
Put simply, isometric exercises will not only increase your flexibility but also make you stronger. A single daily isometric exercise at two-thirds maximum effort for six seconds increases strength by a whopping five percent each week. More curiously, research further revealed that static strength continued to improve even after the conclusion of a program. Not bad results for a week of rest. In Thépaut-Mathieu et al., it was also discovered that subjects had an improvement of muscle contraction at specific training angles that was greater than at other angles (not trained with isometric exercises). So you can be pretty darn confident that isometric exercises will increase flexibility, improve stamina, and produce muscles that are more adaptable, stronger and durable.
By Decreasing Risk of Injury
As flexibility increases and physical performance improves, athletic range of motion is a natural byproduct. You'll gain a greater sense of coordination and be more able to bend, twist, and avoid injury due to your increased ease of motion. Moreover, since isometric exercise also increases muscular endurance and strength, you'll be combating early fatigue. And we all know that fatigue is one of the biggest causes of injury whether due to decrease of mental capacity or simply because of clumsy limbs.
How Do I Start Isometrics?
Isometric exercises are straightforward and require no equipment, but it's sometimes tricky to know where to start. If you're looking for a bit of guidance, Activ5 is a fantastic way to easily incorporate isometric exercises into a busy fitness schedule. It pairs with your smartphone and coaches you through a full-body strength training workout. It makes integration of an isometric program a no-brainer. You can measure your strength level, gamify your workouts, and track your progress with ease.  That leaves you to just concentrate on your results – and sweating it out, of course!
Sources:
https://www.ncbi.nlm.nih.gov/pubmed/11834101
https://breakingmuscle.com/learn/working-at-a-stand-still-how-to-do-isometric-training
http://jap.physiology.org/content/64/4/1500
http://www.imedpub.com/articles/the-effects-of-maximum-voluntary-isometric-contraction-durations-in-pnf-training-on-muscle-performance.pdf
https://www.ncbi.nlm.nih.gov/pubmed/15462615