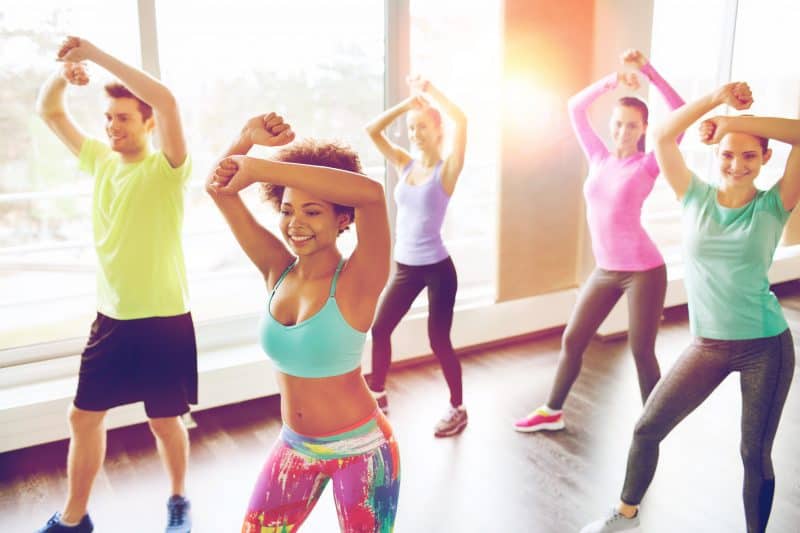 Most fitness classes include music, but both Jazzercise and Zumba are fun exercises that step up engagement with dance routines designed to shape and strengthen you. Latin and world beats reign strong in Zumba's salsa-style cardio routines as participants rumba and cha-cha through the hour. Jazzercise lovers, on the other hand, insist there's no better full-body workout to be found. If you want to explore the proven mind-body benefits of dance-cardio, learn a little more before signing up for these fun exercises.
Choreography
Choreography is a key difference between the two programs. All Jazzercise routines are designed in California and passed to instructors before teaching them in class. Zumba has a more fluid system in which instructors design dance routines using combinations specific to all Zumba classes. While some participants appreciate the impromptu energy of a loosely choreographed Zumba class, fans of Jazzercise love learning routines by heart and dancing to them on their own.
Music
While the Latin spirit is a consistent theme in Zumba, techno and pop song mixes are also common, especially in the specialty classes that focus on strength-training. Jazzercise classes are less genre-specific and will include a range of routines set to pop songs, Broadway musical tracks, world techno mixes, Latin beats, alternative hits and R&B melodies. Expect to dance to recent releases by Beyonce, Katy Perry, Lady Gaga and Justin Bieber, among many others.
Attire
Both programs have their own brand of clothing, but neither requires participants to wear it to class. Some Zumba dancers wear the trademark drawstring pants, bra tops, and colorful smooth-soled sneakers, and keep their hair down instead of tying it back so their locks move with their bodies. Jazzercise clothing is more form-fitting and in tune with popular fitness style trends. Members wear graphic tanks, compression tights, and open-back jackets and shirts. Because Jazzercise usually includes high-impact routines, most members wear supportive sports bras, well-made athletic shoes and tie their hair back.
Isometrics
Because isometric exercise builds strength and stamina through stationary poses, like planks, it pairs well with a cardio session. While both Jazzercise and Zumba burn fat and build muscle, you might engage in more isometric exercises with Jazzercise. Their routines are inspired by yoga, ballet and pilates, and some of their specialty classesare dedicated to those forms. Zumba continues to expand its program offerings. Specialty classes focused on muscle toning are more common now. You can also do an isometric session on your own. For example, you can press your hands together and squeeze, or try a plank position on your hands or elbows.
Verdict
For all their differences, both are fun exercises that offer a structured environment to burn calories, make friends and get the feel-good endorphins pumping. No matter which program you pick, chances are good you'll enjoy the chasse and cha-cha toward better health. So why not try them both?